"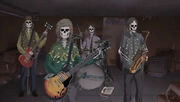 The Amazelingtons
" is the former band of
Dr. Johnathan Twinkletits
.
They were killed by Dr. Twinkletits after they broke up and after he became a hard core psychiatrist, psychologist and therapist.
The Amazelingtons are most likely intended as a parody of The Grateful Dead, specifically their appearance as skeletons in the music video for "Touch of Grey". It's also possible they could be a reference to the Payloa$, Bob Rock's band before he became a producer.
Ad blocker interference detected!
Wikia is a free-to-use site that makes money from advertising. We have a modified experience for viewers using ad blockers

Wikia is not accessible if you've made further modifications. Remove the custom ad blocker rule(s) and the page will load as expected.