Bookklok
Talk

0
230pages on
this wiki
Bookklok is the fifth episode of season 4 of Metalocalypse.
Toki
is offended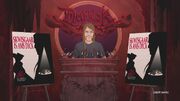 because
Skwisgaar
didn't let him to perform a guitar solo during Dethklok live show. In a fit of rage, Toki writes a book named "Skwisgaar is ams Dick" to humiliate Skwisgaar. That leads to deterioration of Skwisgaar's reputation, increasing Toki's popularity. Finally, Toki gets the right to open Guitarganza Ice Festifal, though earlier it was supposed that Skwisgaar should open it.
Meanwhile, Nathan get a defibrillator. Nathan, Pickles and Murderface alltogether are having fun of it during the episode.
At the end of episode, Toki tries to open the festival, but fails and has a panic attack, which Nathan, Pickels, and Murderface mistake for a heart attack. Skwisgaar uses Nathan's defibrillator to help Toki, who insists he is having a panic attack not a heart attack, but Skwisgaar proceeds anyway until Toki knocks the defibrillator from his hands which leads to destruction of the stadium where the festival took place, causing many deaths among fans of Dethklok.