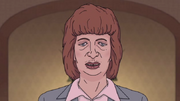 Caroline is
Toki
's girlfriend in
Fertilityklok
. They meet through an online dating website called eLadymates when Toki looks for a wife. Unfortunately they have nothing in common and Caroline is only interested in getting pregnant with Toki's child. Eventually Toki runs away from her and never sees her again.
Ad blocker interference detected!
Wikia is a free-to-use site that makes money from advertising. We have a modified experience for viewers using ad blockers

Wikia is not accessible if you've made further modifications. Remove the custom ad blocker rule(s) and the page will load as expected.