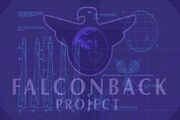 The Falcon Back Project is the Tribunal's (and Mr. Salacia's) top secret project which began shortly after the events of "Black Fire Upon Us" and coincides with Offdensen's nine-month absence. Currently little is known of the project other than that it is run by Salacia and overseen by the brainwashed General Crozier. The name of the project was revealed in "Doublebookedklok". The project is partially funded by the United States government (albeit secretly) through the Tribunal's political connections. Evidently the project costs a massive amount of money, requiring global economic growth (through the consumption of Dethklok media) to continue for nearly a year.
Charles Foster Ofdensen is shown to be aware of the project and it is believed that he gathered information on it during his nine-month absence from managing Dethklok. It also appears that Ofdensen has recruited Edgar Jomfru to aid in gathering more information on the project.
Persons known to be aware of the FalconBack Project
Edit
The name "Falconback" is a reference to German Viking Metal band Falkenbach.