Fanklok
Talk

0
230pages on
this wiki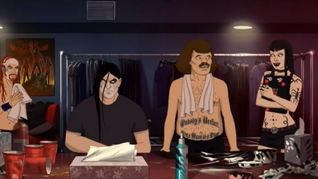 Fanklok is the first episode of season 4 of Metalocalypse.
After the concert for Israel and Syria, Dethklok returns to Earth, where Nathan Explosion reveals that he is now seriously dating one of his fans, a female named Trindle.
Pickles doesn't approve of Nathan's new girlfriend, as he doesn't know anything about her yet trusts her, even though she's nothing more than a fan. The band is informed that they've been invited to Klokikon (an obvious reference to the real life Comic-Con), but they decline. William has taken up smoking due to being selected for the cover of Smokearoonie Aficionado.
Afterwards, The Tribunal discusses Dethklok's upcoming record and Nathan's relationship with Trindle. They bring in Dethklok relationship expert Dr. Torminiman McMilldidindindin. He says that dating a fan may reap the most severe repercussions, because when the celebrity wants out, the results can be catastrophic. Afterwards, Vater Orlaag , General Crozier , and Mr. Selatcia discuss Dethklok's impending record. According to the plan, the proceeds made from the record will "flow into Falconback like a river." General Crozier than announces that the signing of the biggest defense bill of all time through Congress will be the result of his lobbying efforts.
Meanwhile, Skwisgaar , Toki , and Pickles all take up smoking and discuss how secretive Trindle is and how she's always walking around with her laptop. Upon further inspection, it is revealed that Trindle is under suspicion for the disappearance of the lead singers of several Dethklok cover bands. She was detained, but never charged. She even has a dating profile that appears to be used to lure in anyone that resembles Nathan. This information is relayed to Nathan, who doesn't believe the band, so he drives the band to Klokikon to prove her innocence. Charles notices this and sends a team over to Klokikon.
When Dethklok arrives, they begin to critisize the fans (the sweaty nerds, the cosplaying geeks, the Dethklok furries, the homosexual fan fiction writers; Toki likes one fan's artwork of his abs). They soon learn from an obese Skwisgaar cosplayer that Trindle has some form of "exhibition" at the event. When they find her, she is caught performing oral sex on a Nathan cosplayer and a whole line of them as well. Trindle claims that she didn't cheat on him, because they're all (in her derranged mind) Nathan and that she's a really big fan of Nathan. When he calls for help, the band has exhausted themselves going up stairs, and they stop for a smoke break. When they arrive, they realize that Trindle has a bomb on her chest, and they decide to make a cigarette smokescreen to protect Nathan. It is at this point that Charles appears, and Dethklok is retrieved as the bomb explodes. Many fans are killed from the explosion, and the episode ends as a dead skin mask of Trindle's face lands on Nathan's.