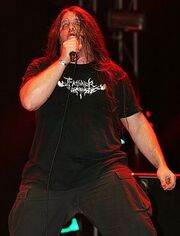 George "Corpsegrinder" Fisher
(born July 8, 1969) is the American vocalist for the American death metal band Cannibal Corpse and the lesser-known melodic death metal band Paths of Possession. He is also known as the voice of the
Metal Masked Assassin
on
Metalocalypse
. He was also the inspiration for
Nathan Explosion
's character in both appearance and voice.
Metalocalypse episodes
Edit
George Fisher has done voices for several Metalocalypse episodes:
Dethklok albums
Edit
As a result of lending voice work for Metalocalypse: The Doomstar Requiem, Fisher appears on the soundtrack album for the special.
Ad blocker interference detected!
Wikia is a free-to-use site that makes money from advertising. We have a modified experience for viewers using ad blockers

Wikia is not accessible if you've made further modifications. Remove the custom ad blocker rule(s) and the page will load as expected.