Little Julliette Sarmangsadandle
Talk

0
230pages on
this wiki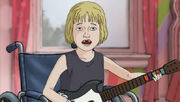 Julliette Sarmangsandandle
is a little girl with a terminal illiness and a child fan of
Toki Wartooth
who appears in the episode "
Dethkids
".
She is a sickly, wheelchair-bound girl whose last wish is to meet Toki. The Wish for Something foundation asks him to meet her via Ofdensen. Toki is tired of being the "kid friendly" member of the band and refuses to meet her. Toki begins to over-brutalize himself and his actions (becoming a more brutal version of himself), having deemed himself above the childish pursuits he normally follows. Charles Foster Ofdensen shows Toki a CD Julliette made (with her playing a Guitar Hero guitar), in which Julliette plays "[A Song for Toki] " that causes him to flash back to his own childhood and realize that being a kid is "brutal". He then raced to spend some time with her only to discover, to his horror, that she had died from her illness. Overcome with guilt, Toki began to experience fierce hallucinations of Julliette accusing him of her death (throughout these visions, her face was being eaten by maggots).
She makes a cameo in Dethdad where a death expert working for the Tribunal states that "everything that Toki touches with love dies".
Little Julliette Sarmangsadandle dead.

Added by

ImNathanExplosionFromDethklok

Toki's discovery of her corpse is easily one of the most disturbing scenes in the series, due to her youth and innocence.