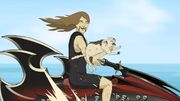 Really Cool Cat is the name Toki gives the cat he adopts in
Dethhealth
, or at least the name he calls it by. The cat is has a white and brown "cow pattern" bicolor coat, with brown spots covering its right ear and left eye.
The cat is rather patient and affectionate towards Toki, staying with him even after Toki takes it water-skiing and Pickles feeds it tequila. While it stayed in Mordhaus, Toki switched his urine with the cat's, believing it would come up healthier in the lab tests. After more band members switched urine samples, the cat's urine ended up being labeled as Pickles', who was told he was dying. Unfortunately the cat was sick even before he met Toki and died of an unknown illness, causing Toki so much distress that he fainted.
In mourning, Toki ordered a massive sarcophagus to be made (so big it overshadowed the The Sphinx) in honor of his cat and had it laid to rest in Egypt, where the two originally met. It is unknown whether the cat was male or female or what illness it had.
Cool Cat gallery
Edit
Ad blocker interference detected!
Wikia is a free-to-use site that makes money from advertising. We have a modified experience for viewers using ad blockers

Wikia is not accessible if you've made further modifications. Remove the custom ad blocker rule(s) and the page will load as expected.