Rebecca Nightrod


Background Information
Gender
Female
Status
Alive
Occupation
Former actress, currently in a coma
Family
-
Appearances
Girlfriendklok
Voiced by
Laura Silverman
Rebecca Nightrod
, voiced by Laura Silverman, is
Nathan
's demanding, shrewish girlfriend, a professional tennis player turned sitcom actress and model. She is controlling and never allows Nathan to speak, and he admits that he is afraid of her and his hatred for her is "the most brutal thing ever", going so far as to say "If she were a street gang, I`d go to war with her with bottles and chains." When he finally prepares to break up with her, she falls down several flights of stairs, ending up disfigured and in a coma, which prompts Nathan to change his mind about ending their relationship (she is now the "ultimate" girlfriend, as she can no longer terrorize him).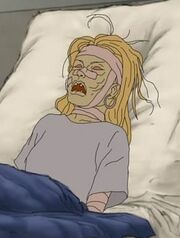 In "
Klokblocked
", Nathan learns that Rebecca, has already found a new boyfriend while still in a coma.
Ad blocker interference detected!
Wikia is a free-to-use site that makes money from advertising. We have a modified experience for viewers using ad blockers

Wikia is not accessible if you've made further modifications. Remove the custom ad blocker rule(s) and the page will load as expected.