Succuboso Explosion
Talk

0
230pages on
this wiki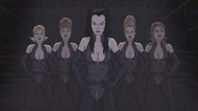 Succuboso Explosion is
an extremist faction of women devoted to capturing
Nathan E
xplosion
and bearing his children, creating a race of warriors that will conquer the world.
Their mantra is "We are the vessels that hold the future." They use a device called the "loin extractor," a harpoon-like projectile that attaches to the target's crotch and electrocutes them. It is unknown how the device actually "extracts" the loins, but it likely grapples the loins when electrocuting the target and rips the loins off afterwards.
In "Black Fire Upon Us", is revealed they were in alliance with The Revengencers.
Their leader is Lavona Succuboso.